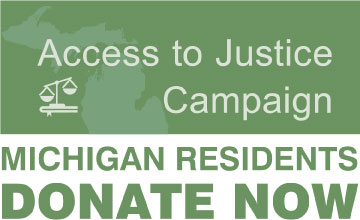 Attorney Donations
Michigan attorneys, MAP participates in the Access to Justice (ATJ) Campaign, a collaborative centralized campaign, administered by the Michigan State Bar Foundation in partnership with the State Bar of Michigan. To make a charitable contribution, please donate online at this link. 100% of your donation will be distributed to support civil legal aid to the poor throughout Michigan.
Non-Attorney Donations
Donate online here to make a non-attorney donation (including recurring donations!) to MAP or any of our programs including Legal Services of South Central Michigan, Farmworker Legal Services, Michigan Immigrant Rights Center, Welcoming Michigan, Michigan Legal Help, Michigan Elder Justice Initiative, and Michigan Poverty Law Program.
Donate by Mail
If you prefer to donate by mail, please send the check to:
Michigan Advocacy Program
Manager of Outreach & Development
15 S. Washington Street
Ypsilanti, MI 48197
More Information
To request additional information about donating to MAP, please contact Mackenzie Hewitt, Communications & Development Associate, at mhewitt@lsscm.org or (734) 714-3211 Ext. 111.
MAP is funded in part by the Legal Services Corporation. Please be advised that your contribution to MAP, Legal Services of South Central Michigan, or Farmworker Legal Services may not be used in any manner inconsistent with the Legal Services Act and Regulations.